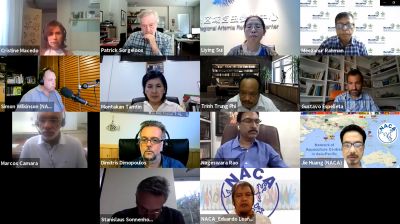 The goal of the webinar was to document differences in practices used by fish and crustacean hatcheries in the use of Artemia cysts for the preparation of live feeds. Over time, the practices used by hatcheries in Asia, Europe and Latin America have diverged from the good aquaculture practices for Artemia production recommended by FAO in the 1996 Live Food Manual.
The technical programme included presentations from twelve speakers from around the world, with an introduction from the Director General of NACA, Huang Jie. The webinar was attended by 359 people from 53 countries.
The webinar was facilitated by the International Artemia Aquaculture Consortium (under formation) as a follow up to the recommendations of the recent article Past, present and future scenarios for SDG-aligned brine shrimp Artemia aquaculture in FAO Aquaculture News. It was hosted by the Network of Aquaculture Centres in Asia-Pacific.
Video recordings of the presentations and the report of the webinar are linked below.
Programme
Briefing on webinar objectives
Huang Jie, Director General, Network of Aquaculture Centres in Asia-Pacific
Brief introduction on the Artemia cyst hatching process and its use in hatchery feeding
Patrick Sorgeloos, Artemia Reference Center, Ghent University, Belgium
The current status of the use of Artemia cysts in shrimp and fish hatcheries in Thailand
Montakan Tamtin, Director, Samut Sakhon Coastal Aquaculture Research and Development Center, Thailand

VIET-UC shrimp hatcheries, Vietnam
Trinh Trung Phi, Technical Director, VIET-UC shrimp hatcheries, Vietnam
Use of Artemia cysts in crustacean hatcheries in the Mekong Delta, Vietnam
Nguyen Van Hoa, Can Tho University, Vietnam
Status of Artemia cyst usage, hatching and application in shrimp hatcheries in India
Nageswara Rao P.V., All India Hatchery Association
Artemia cyst hatching and application in shrimp and prawn hatcheries in Bangladesh
Muhammad Meezanur Rahman and Khin Mau U, Artemia4Bangladesh
Use of Artemia cysts in hatchery in China
Sui Liying1, Zhang Bo1 and Gao Song2, 1. Asian Regional Artemia Reference Center, Tianjin University of Science and Technology, China, 2. China Artemia Association
Artemia use
Dimitris Dimopoulos, Tapies Hatchery, PHILOSOFISH SA, Greece
Use of Artemia in sea bream, sea bass and meager larvae production
Gustavo Espellata, Fry Operation Manager, AVRAMAR, Spain
Ecuador: Hatching practices for Artemia cysts
Stanislaus Sonnenholzner, CENAIM, Ecuador
Status of Artemia cyst use in shrimp hatcheries in North-east Brazil
Marcos R. Camara, Federal University of Rio Grande do Norte, Brazil
Host/MC: Simon Wilkinson, Network of Aquaculture Centres in Asia-Pacific

Report
Copyright, all rights reserved.